Vernal Office Team
Lyn – Appointment Coordinator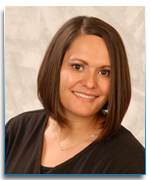 Lyn studied dental assisting at Bridgerland Technical College. She started working at Wright Orthodontics in April of 2006. She initially worked as a clinical assistant until she had a baby. After her daughter was born, Lyn worked as a substitute until her daughter started school. She then worked part-time with us for two years, and in June of 2015, she became our full-time scheduling coordinator. Her favorite part of her job is seeing all the beautiful smiles and meeting new people. Lyn's experience in different parts of our office has helped her be more efficient at her job, and she works hard to make scheduling easy and convenient! When Lyn is not working, she enjoys quilting. She also likes spending time with her husband and daughter. One of their favorite summer activities is going to the lake, another is cheering for the University of Utah football team. GO UTES!
Karinda – Reception Coordinator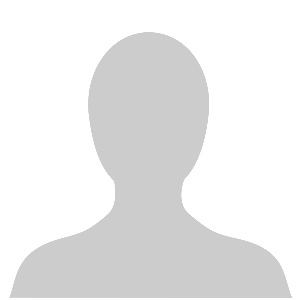 Bio Coming Soon!
Sarah – Reception Coordinator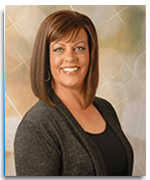 A happy, beautiful smile is usually the first thing I notice about someone, so I naturally enjoy being a staff member of the Wright Orthodontics team! The entire staff is positive and kind, with a genuine concern for our patients and their families. I am amazed with how much the Wright's and staff get involved with the communities we serve. Working for Wright Orthodontics allows me to keep my family as my top priority, which is an incredible gift; my family is my whole world. I have been married for 20 beautiful years and have the blessing of having 6 incredible children! I was born and raised in Uintah Basin, and aside from my college years, I have lived in Vernal. I love my home and I am happy to be a member of the Wright Orthodontics team!
Shaye – Financial Coordinator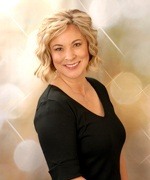 Bio Coming Soon!
Debbie – Insurance Coordinator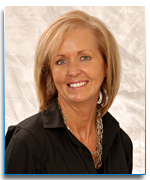 Debbie has been with Wright Orthodontics since 2003. She loves the people she works with; and getting to know patients while seeing their smiles transform during treatment. Debbie is committed to helping patients make the most of their insurance benefits in order to minimize any personal expense during orthodontic treatment. When she is not helping patients, Debbie loves the outdoors, gardening, camping, hiking, boating, or anything that relates to sunshine. She also has three children and six beautiful grandchildren.
Jackie – Office/Marketing Manager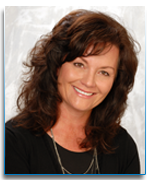 Jackie has been with Wright Orthodontics since August of 1999. She helps our practice run smoothly by answering phone calls and taking care of billing, payroll, and HR tasks. She also leads our marketing team, helping with advertising and delivering RD gifts. Jackie admires the atmosphere of integrity and respect our doctors have cultivated, and she feels confident in our practice's ability to keep up with changes and utilize new technology to enhance every patient's experience. Jackie is dedicated to enhancing her knowledgeable base, and regularly attends training seminars with the rest of the team.  Her favorite part about working for Wright Orthodontics is seeing our doctors improve our patients' confidence while straightening their teeth. She also enjoys meeting our patients and their families and building lasting relationships with them. Jackie believes family is everything and is the proud mother of six children. She is also a loving and supportive grandmother. Jackie's hobbies include gardening, boating, and attending sports activities to cheer on her children and grandchildren.
Marty – Office/Marketing Assistant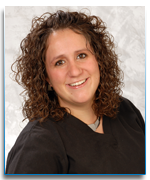 Marty joined the Wright team in March of 2004. She loves working in such an awesome environment and watching our patients' confidence grow as their smiles transform. Marty helps our office run smoothly with her extensive knowledge in just about everything relating to orthodontics. She orders tools and orthodontic supplies, organizes and decorates our patient contest boards, designs posters and banners, and posts fun pictures to our social media sites. Marty is definitely everyone's go-to gal! She loves to organize, plan, decorate, sew, put up Christmas decorations way too early (according to her husband), and is a kitchen dancing enthusiast! In her free time, she enjoys spending time with her family, camping, playing games, and watching movies.
Robin – Marketing Team/Clinical Assistant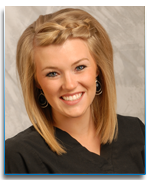 Robin is Dr. William Wright's oldest daughter. She has been a part of our practice since 1999 and has worked here as a clinical assistant since April 2013. Robin attended Brigham Young University for two years before coming home to get married. She loves getting to know our patients and seeing them enjoy their time here. She takes joy in watching our patients' self-confidence grow as their new smile emerges. Robin helps our doctors in any way she can, whether it is changing a wire or fixing a bracket. She also helps out on our marketing team, doing things like advertising and putting together patient rewards and parties. Robin is married, and together, they have a beautiful little girl. When she's not in the office, Robin enjoys cooking and baking. She also loves being with family and going boating, snowboarding, shopping, and shooting bows.
Jeryl-Anne – New Patient Coordinator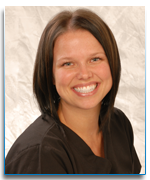 Jeryl-Anne joined the Wright team in June of 2012. She loves working with such an amazing team and meeting new people, while seeing the confidence a new smile brings. As a new patient coordinator, Jeryl-Anne strives to make each patient's first visit both fun and educational. She is committed to giving our patients a complete understanding of the clinical and financial aspects of their treatment. Jeryl-Anne lives in Vernal with her husband and their two children. She enjoys boating and snowboarding with her family, as well as watching her kids at their different sporting events.
Melanie – New Patient Coordinator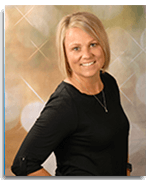 Melanie has had two of her five daughters as patients here, and they loved it! As a mother, Melanie loved how the staff was so caring and that the atmosphere was always fun and friendly. Now that she's a staff member – she knows it is! The doctors and staff are so fun to work with, and they truly love their patients. She is a great fan of her girls in all of their sports. She LOVES to exercise and stay active, go boating with her family, vacation and travel to learn new things. She loves learning her new job here at Wright Orthodontics. She has loved being a hair stylist for over 20 years, and she still teaches Crossfit.
Missy – Records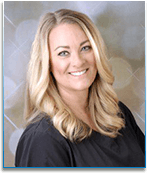 Missy joined Wright Orthodontics in July of 2017. She loves working in such a positive office atmosphere with such fantastic people. Prior to joining our practice, Missy attended BYU-Hawaii and the University of Utah. She is also trained in using our state-of-the-art TRIOS® intraoral scanner and i-CAT™ 3D imaging system. Missy enjoys getting to know our patients and helping them feel great about beginning their journey toward a new smile. She loves seeing our patients' confidence grow as their beautiful new smile emerges. Missy is married to her husband, and together, they have three sons. Outside the office, she likes reading, hiking, traveling, going to the beach, and watching her boys play baseball.
Buffy – Lab Technician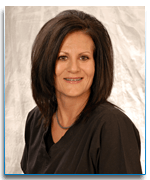 Buffy joined our practice in 2011. She enjoys the people she works with and the friendships she has made here. Buffy contributes to our practice's success by running our state-of-the-art dental lab, making sure all the appliances are ordered and received, and making all the IDB trays and temporary appliances. Buffy is blessed to have a wonderful husband of 22 years. In her free time, she enjoys horseback riding and being with her family.
Diana – Clinical Manger and Trainer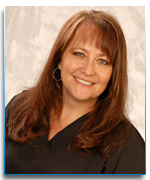 Diana has worked worked in the orthodontic field since 1997 and has been here are Wright Orthodontics since May 2003. She loves what she does. Not many people can say they get to come play with their friends and get paid for it – but that is how she feels. She gets to work with amazing people who keep her smiling and laughing all the time. Getting to know the patients and their families is one of the best parts of her job. She loves hearing about their day, what they like and dislike, and learning what make them laugh. She gets to build relationships with them that allow them to laugh and joke with her. She loves that the patients keep her young. One of her favorite things about her job is seeing patients outside the office, they greet her with a smile and aren't afraid to say hi and chat. She is the proud mother of four amazing kids and a grandmother to one awesome grandson. In her free time, she watches football, GO COWBOYS! Baseball is a family favorite, but most of her time is spent chasing her girls at softball fields and livestock show rings.
Bobi – Clinical Assistant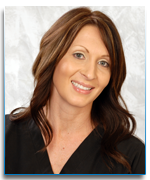 Bobi has been with our practice since March of 2012. She enjoys our wonderful office atmosphere, getting to know our patients, and learning about the exciting things going on in their lives. Bobi truly enjoys what she does and loves bringing a smile to our patients' faces. She helps our office run smoothly by providing exceptional assistance to our doctors and by keeping patients updated throughout their treatment. Seeing our patients enjoy their incredible final results makes her heart happy! Bobi and her husband together have four amazing kids. In her free time, Bobi loves spending time outdoors, doing things like camping, biking, hiking, and occasionally fishing. She and her family are also big baseball and softball fans.
Shandi – Clinical Assistant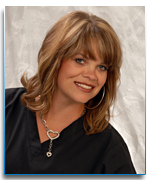 Shandi started working for Wright Orthodontics in April of 2013. She is so thankful to work for a practice where she is able to call all of her co-workers friends. She enjoys our fun and exciting office atmosphere and considers both of our doctors to be amazing orthodontists who are a joy to be around and work for. Shandi is constantly referring all of her friends and family to Wright Orthodontics. She believes everyone should get their braces here! Shandi is actually a licensed cosmetologist and certified emotion code practitioner, but she does clinical assisting full-time because she enjoys it so much. Shandi has been married to her husband for 19 years. Together, they have four beautiful children, all of whom are patients here. They love coming to our office! In her free time, Shandi likes to sew, quilt, scrapbook, and craft, especially with her kids. She also loves family activities such as playing games, camping, fishing, and riding 4 Wheelers. When she is alone, Shandi enjoys reading, especially educational and non-fiction books.
Taylor – Clinical Assistant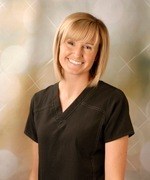 Taylor graduated high school in 2013 then went on to attend Utah State University. She started working at Wright Orthodontics in the fall of 2018. Taylor has 2 Teacup Yorkies who fill most of her heart. They share it only with her fiance, Talon, who serves our country in the United State Navy and is currently stationed in Hawaii. Taylor is excited to get to know all of the patients and their beautiful smiles here, at Wright Orthodontics.
Chelina – Clinical Assistant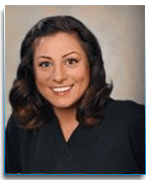 Chelina joined our practice in August of 2014. She loves helping to improve the health and lives of our patients. She admires how our doctors lead by example and put all their passion into their work. Chelina enjoys constantly learning and attending Utah Dental Association events, so she can better assist our doctors in providing the best care possible for our patients. She has been working in the dental field since 2008 and has assisted in many areas, including general dentistry, oral surgery, endodontics, and currently, orthodontics. Chelina loves everything about the dental field, and she feels so blessed to be able to do something she enjoys so much! Chelina is married and has two kids. In her free time, she enjoys gardening. Chelina is also bilingual in Spanish and English, so she is a great help to all our Spanish-speaking patients!
Michelle – Clinical Assistant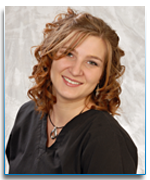 Michelle has been working with Dr. Wright since Oct 2006. "I love the atmosphere of working with a fun staff and helping our patients be proud of their smiles." She looks forward to meeting new patients and helping them have the added confidence they deserve. Michelle is happily married and the mother of 4 wonderful children, "It's very rewarding to be a parent and to watch them grow and learn." In her free time, Michelle enjoys baking, sewing, reading and spending time outdoors (when it's not freezing).
Tracy – Clinical Assistant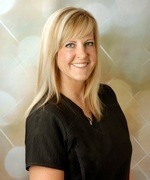 Bio coming soon!